Mychiel was in conversation with our new rabbinical couple, Rabbi Ephraim and Rebbetzen Malki, to find out more about them! Enjoy!
(Mychiel Balshine Community Director | WHC)
Mychiel Balshine | Tell us about yourselves!
Where are you both from? What are your children's names and how excited are you about your new post here in Whitefield?
I was brought up in Gateshead and Malki in Stamford Hill. Tzviki (13) was born in London, Chani (11) in Yerushalayim, Avigail (8) in Wythenshawe and Benjy (5) in Blackpool. We've moved around a fair bit, and are delighted to have found the light here in Whitefield! More on that below…
Debra Harris | Welcome to Manchester…are you red or blue?
Black & White. Obvs.
Ariella Jones | How does Rabbi Ephraim see the Whitefield community changing over the next few years?
We would love to see as many members as possible engaged in some measure of communal life. Whether helping with a minyan, security, chevra kadisha or joining one of our existing or soon-to-be-formed committees such as a welfare team, kiddush team or educational committee. We believe that with the right people behind us, great things can be achieved to include every single member; young & old, male & female, across the spectrum of religious observance.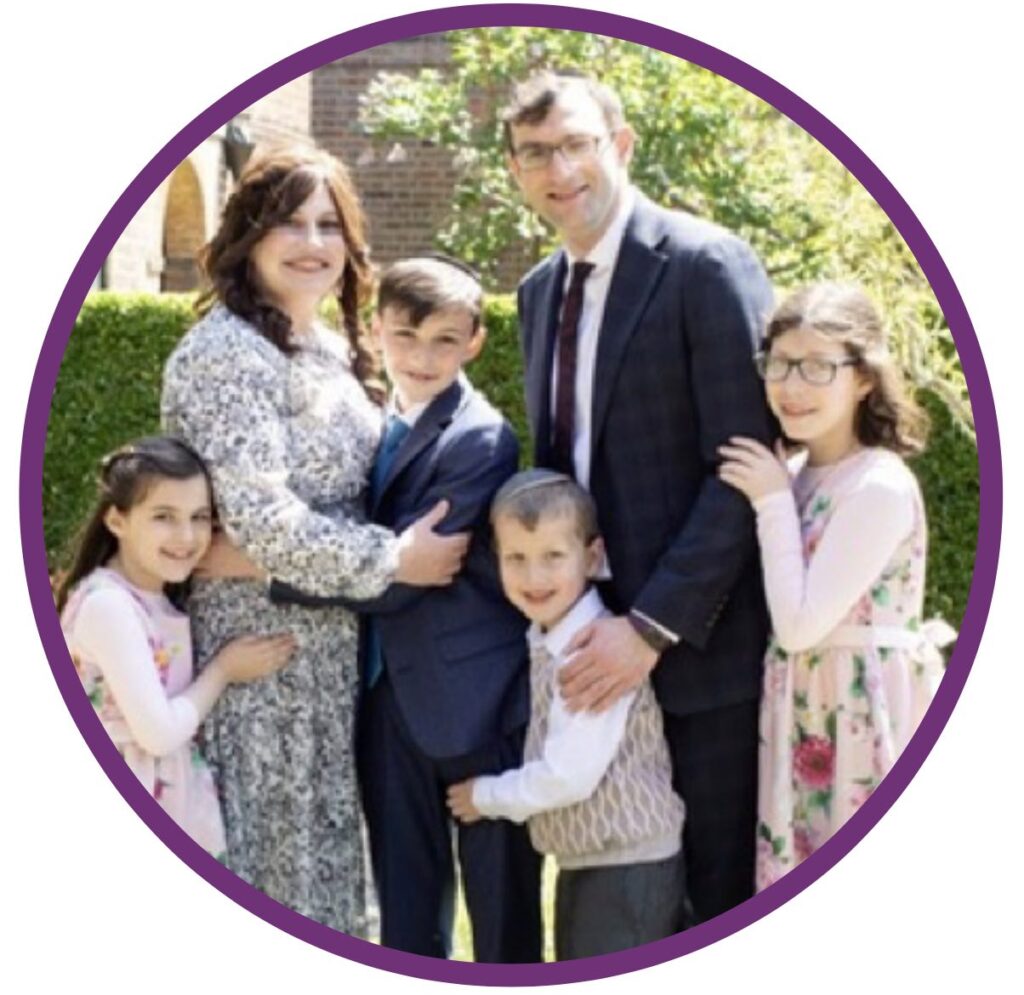 Daniel Berger | What is your favourite 3 course meal and what would be your favourite drinks to accompany the meal?
Sushi starter please, followed by slow roast lamb Henry, medium-rare rib-eye steak, holishkes and sautéed green beans with garlic. Apple crumble & custard for dessert, washed down with Edradour cask strength. Thank you very much, I'm looking forward!
Dani Phillips | Lager or bitter?
If it's not Newcastle Brown Ale, it's not worth drinking.
Sue Newman | I was so touched recently when you asked if I had anyone to say Kaddish for a recent yahrzeit. What plan could there be, in the future, for Kaddish to be said for people who have no-one to do so?
There are organisations both in the UK and in Israel who will say Kaddish for those that need, for a small fee. However, I think it would be wonderful if we could keep this in-house, and ask for volunteer minyan-goers who would be willing to say Kaddish for their fellow members.
Phil Barnett | Having held previous rabbinic posts in Hale, St Anne's and Hampstead Garden Suburb you must have a host of humorous anecdotes. If they are repeatable, would you care to share any of them with us?
A dentist member of a previous community shouted across the hall to me at a bris, "Rabbi – I've not seen you at the dentist for a while!".
I replied "and I've not seen you in Shul for a while!". Only when he showed up 6 weeks later did I agree to 3 fillings.
Another time, I was at an ecumenical meeting in Lancaster and was having a friendly chat with leaders of other faiths. After about 15 minutes I asked when does the meeting officially start and they said we are just waiting for the Rabbi to arrive. Apparently they didn't believe me when I introduced myself as I don't have a long white beard. Some things take time I guess…
(I've already learnt here that it's a very small Jewish world, so have to be careful not to say anything that can be easily identifiable… I don't want to be done for libel! If you want to hear the real loshon-hora ones, speak to me after davening!)
Natalie Hurst | I have two daughters aged 14 and 17 who were engaged in their younger years up till Bat Mitzvah but have become less engaged over the past few years. How you propose to rectify this moving forward? &Jonah Taylor-Fessler | What will you do to try and get kids and teenagers into shul more?
A young man once walked up to the Rabbi at a funeral and asked for the Wi-Fi code for the cemetery. The Rabbi answered "oh please, have some respect for the dead". "Thank you Rabbi" he replied, "is that all in lower case?"
With so many distractions in today's fast-paced society, we will be working on ways to involve young people with engaging social & cultural events and educational programmes such as Friday night Onegs, Shabbat & Yom Tov activities and various trips.
Malki & I maintain an 'open-home, open-heart' policy, and in our experience, young people's involvement has a lot to do with a personal relationship they have with the Rabbi & Rebbetzen, and by being empowered to take on leadership roles where appropriate. Although this does take some time and requires parents' cooperation, it is something we are raring to go for straight away, to make you all feel a valued member of the community.
Anon | Who is your favourite character in the Torah?
Joseph. Every year when I learn through the Parshah, I am inspired by how Joseph maintained his level of religiosity in a non-Jewish environment, and how he brought up his own two sons Ephraim & Menashe on those same principles that he had received from his parents' home. This has encouraged me on my Rabbinic journey so far, as a Gateshead boy, to maintain our own levels of religiosity and bringing up our dear children on those same principles that Malki & I was brought up, even when previously living away from the metropolis of Jewish religious life, whilst at the same time being open-minded, welcoming and respectful of others.
Yulie Wagman | Coming from an eclectic background of communities and congregations previously, what do you plan to bring to Whitefield to entice more families and young adults to become more involved to preserve and blossom their Jewish identity?
We've learnt that it's about having a personal connection with the Shul leadership team. And that is our plan – to get to know you all personally and build meaningful relationships. (But do give us time – it's a big community keinehora!) Our dream is that everyone will be proud to be Jewish and proud to be a member of Whitefield Hebrew Congregation!