We are delighted to share the good news that our member Rochelle Gardner has been awarded the BEM (British Empire Medal).
Back at the beginning of Covid the Shul found out that you could contact Rochelle Gardener directly at Morrison's to receive the Covid delivery service while waiting to get onto their official website. Our members read about this project in the Whitefield Times Newsletter.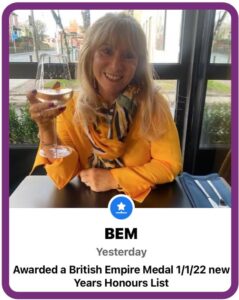 Rochelle has been a key driving force in fundraising for the children's charity Young Lives Vs Cancer. She has helped raise over £15,000 and donated hampers to local children which the charity supports. In September 2020, she was instrumental in organising for a young patient at Christie's hospital to receive a personal letter from Manchester United FC containing their best wishes. And in November this year, Rochelle took part in Bury Hospices 'Strictly Best Foot Forward' dancing competition which saw her not only walk away with the top prize alongside her dancing partner, but also raise over £1200 for the hospice.
During the pandemic, Rochelle also provided invaluable support and donations to vulnerable and isolating members of the local Jewish community including helping to organise a virtual event to celebrate Rosh Hashanah so that local residents felt connected in an interactive, inclusive and meaningful way.
Described as a lifeline within her local community, she is an inspiring example of a Community Champion, always going above and beyond what is expected of her within her role at Morrison's for the community in Whitefield.
Rochelle Gardner BEM, Community Champion at Morrison's Whitefield, said: "I'm thrilled to be recognised for something I am so passionate about. I love playing a part in supporting our community and those around me. It really is an honour to do this for a job every day."