Following on from last week's letter to the community, we have put together a three-pronged programme over Chanukah in which we will celebrate the life of Rabbi Sacks. We welcome everyone in the community to take part, whatever their age!
The three parts of the programme are;
1). 'READING FOR MEANING' – Shabbat 11th/12th Dec,
2). 'MEMORIES' – 12th Dec – Sat night 12th Dec,
3). 'THE KNOWLEDGE WALK' – All Chanukah.
"READING FOR MEANING"
Rabbi Sacks lived a total of 72 years. To celebrate that time and keep his memory alive in our minds we are asking for 72 people and hopefully many more, to sign up to read, study or learn ANY material written by or about Rabbi Sacks – from newspaper obituaries to his scholarly books or anything in between, on Shabbat Chanukah, 12th Dec 2020. A variety of material will also be shared via email with the community.
Please
login
to read the complete text
Everyone from the Executive and the Board, along with Mychiel are looking forward to participating with you.
Enduring Legacies: Rabbi Sacks & Rabbi Steinsaltz
As we enter the month of Kislev, in which we will be celebrating the festival of Chanukah, also known as Chag Urim (the Festival of Lights), we are facing this year a Jewish world with a little less light. We have lost two great Jewish leaders in the past three months. Rabbi Adin Steinsaltz passed away on the 17th of Av, 5780 (August 7, 2020) and Rabbi Lord Jonathan Sacks passed away on 20th Cheshvan, 5781 (November 7, 2020).
Rabbi Steinsaltz was a teacher, philosopher, social critic and prolific author. His lifelong work in Jewish education earned him the Israel Prize, his country's highest honor. He brought Tanach, Talmud, Kabbalah and Hassidut to a mass Jewish audience who until then had limited access to this wellspring of Jewish knowledge. In 1965, he began the monumental translation of the Talmud into Hebrew (and later into English). Its completion was commemorated in 2010 by the inaugural Global Day of Jewish Learning, which has since become an annual international event in over 40 countries.
Rabbi Lord Jonathan Sacks was a communal rabbi, philosopher, theologian, author and moral thinker. He served as Chief Rabbi of the British Commonwealth between 1991 and 2013, was knighted by the Queen in 2005 for services to the Community and to Inter-faith Relations, and was granted a life peerage with a seat in the House of Lords in 2009. Rabbi Sacks presented a Judaism that was engaged with the modern world, and a Judaism that had an eternal and relevant message for wider society. He had a deep influence on many world leaders, both religious and political, as well as multitudes of ordinary Jews and non-Jews alike, who were inspired by his writings and magnificent oratory presentations.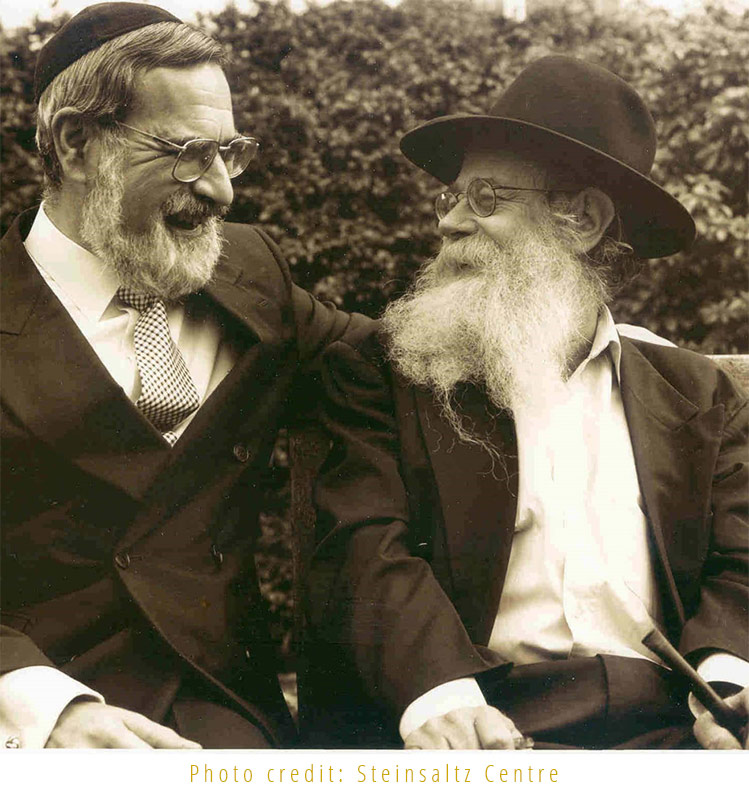 These two rabbis had many things in common. While they were both brilliant men and deeply entrenched in scholarship, they were also driven to bring ancient Jewish wisdom to the masses and held the value of education at their core. Despite coming from diverse backgrounds, they were both inspired and profoundly influenced by the late Lubavitcher Rebbe, Rabbi Menachem Mendel Schneerson. Rabbi Sacks was fond of saying about him that while good leaders create followers, great leaders create leaders.
Rabbi Steinsaltz and Rabbi Sacks have left thousands of students mourning their loss. We who include ourselves in their number, must stand up and take on the mantle of continuing their legacies as Jewish leaders.
In the Covenant & Conversation commentary essay for the parsha of his shiva week (Parshat Chayei Sarah) Rabbi Sacks explores Avraham's faith in the covenant and promises that he has received from God, despite only experiencing the very beginning of their fulfillment in his lifetime. Rabbi Sacks concludes the essay with these words:
Leaders see the destination, begin the journey, and leave behind them those who will continue it. That is enough to endow a life with immortality
We must see this as a call to us to continue the work of these rabbinic leaders through our own leadership, and thereby safeguarding their legacies.
Resources
You can find various resources for Jewish education and learning from the legacies of Rabbi Steinsaltz and Rabbi Sacks here: