see also » Bar Mitzvah Traditions » Bat Mitzvah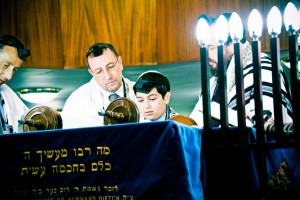 Your son's Bar Mitzvah is an important date
for your family and the whole community.
It is wise to inform the Shul Office as soon as you can after his birth… yes that's right!
Whitefield is a large community and we can experience a Bar Mitzvah every weekend at certain times of the year.
When making an enquiry, please give your son's Civil and Hebrew Birth Dates, together with his Hebrew and English Names.
Note 1: not every Shabbat is suitable for a Bar Mitzvah boy to read Haftorah. You will need to consult with both the Shool Office and the Rabbi to decide upon a suitable date.
Note 2: some times your son's "calling-up" and the celebration of his Bar Mitzvah occur together on Shabbat. But it is frequently the case that his calling-up will be on the nearest Monday or Thursday after his Hebrew birthday, which he will celebrate publicly by his reading Maftir and Haftorah on the following Shabbat.
To start the ball rolling and send an enquiry to the Shool Office, you can fill in the form below.